WORKING AT HCPA
At Horizon, we believe in providing our people with continuous learning and growth opportunities through our training systems, exposure to a variety of industries, challenging work, and the opportunity to see work through from beginning to end. We also believe in fostering a strong collaborative environment. You will work with different teams throughout the year and develop relationships with different accountants, managers, and principles.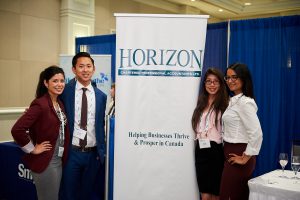 LEARN, GROW, AND THRIVE
Access to our internal education website, Horizon University, developed to grow your skills while at the same time integrating with the CPA PERT competencies you need to meet
All employees are assigned a buddy on their first day and a coach to assist with their training and growth
CPA students are also assigned a registered CPA mentor within the firm to assist with their semi-annual PERT reports
Additional firm-sponsored courses are promoted through monthly lunch & learns
Timely feedback and goal setting are provided for at least six times annually by way of file specific performance reviews, mid-way reviews, and annual performance reviews
The opportunity to contribute to the firm's growth, where your input is valued.
BENEFITS
Paid over-time or time off in lieu of over-time
Access to Great West Life group plan benefits
Reimbursement of CPA annual dues and course fees
Reimbursement of Densmore CFE prep course fees
Reimbursement of professional development courses fees
Team building events and monthly team lunches
Conveniently located in the downtown core, by Granville SkyTrain station, with access to Pacific Centre just an elevator ride away
Jeans Fridays!